Skillific halts their operations, investor weighs in
16. December 2016
It is with sadness that we write you about the end of a promising talent search engine Skillific who raised over 80k on Fundwise last March. Unfortunately their next financing round failed which means they could not further develop the product and have to halt their operations.  
Skillific had all that was needed to succeed - a strong team who also invested in the company themselves. During the 4,5 years when the company reached from idea phase to product development and business, Skillific won pitch competitions and attracted attention at various conferences. Fundwise was among one of their financing tools, investments were raised through other means as well, among others a seasoned entrepreneur and serial investor Sonny Aswani believed in the company and invested in them through us.  
Risks go hand in hand when investing in technology startups and the phases of startup financing are clearly defined. Sooner or later all have to go through the Valley of Death.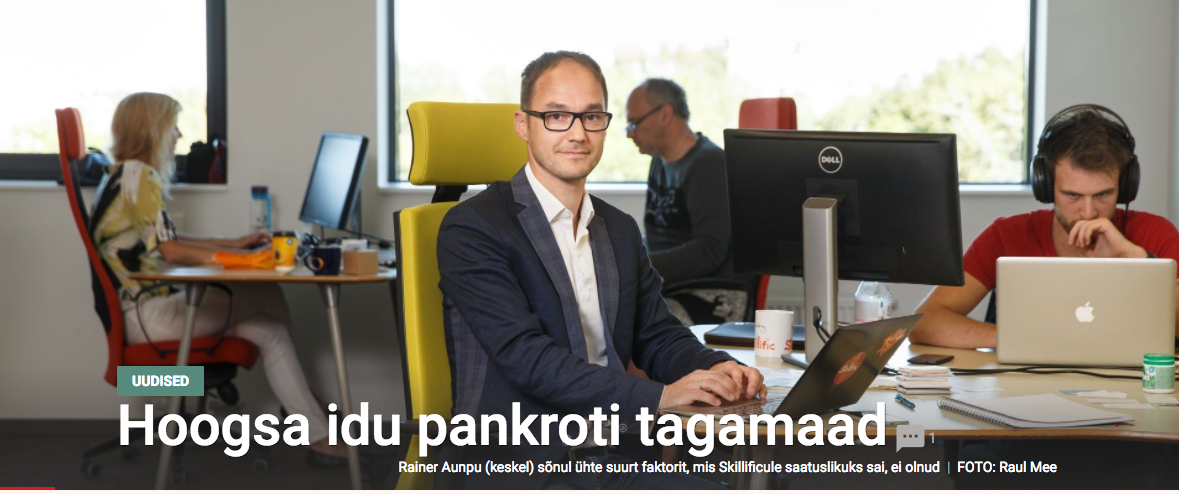 ​​​Screenshot from business daily "Äripäev". 
Our mission at Fundwise is to make capital more available to companies which helps to increase the chances of success. Some companies will fold, it is statistically so if we look at the statistics of other similar platforms that have operated far longer in other countries.
Investor weighs in
One of the investors of Skillific, Oliver, took the time to comment on the situation:
"In hindsight I as an investor in Skillific am feeling confident to state that it was a good investment decision. During the same period LinkedIn was bought by Microsoft which only proves how important the business of matching people is. 
Skillific's business idea - to automate the primary recruitment selection process based on data contained on the web and elsewhere, by using algorithms - is viable and worth investing in also today. Unfortunately, the success of the best business ideas depends on continued funding, and for a larger and technical aircraft to take off, one needs longer runways i.e. serious funding.
There are very few companies where the leader (Rainer) is able to raise almost as big of an investment as was raised on Fundwise during times of turmoil where most of the team has left. It is understandable that he couldn't raise all that was needed and in this case it is wise to halt all operations.  
If only there were more as smart and courageous leaders, this would mean more Estonian success stories in fact. I'm convinced that Skillific's work will be continued quite soon. If Fundwise would be one of intermediaries of their next round, I would invest again."
There is no bankruptcy declared
It is important to emphasize that despite what the business daily Äripäev wrote, the company has NOT declared bankruptcy. During the last three months, co-founder and CEO Rainer Aunpu dedicated his time trying to actively find ways of continuing the business, always keeping the company's shareholders in the loop. Right now he is looking into the possibilities of selling Skillific's IP in order to honor all obligations and to liquidate the company  without bankruptcy. Further news on that will be in in the beginning of 2017. 
We will keep you posted. 
NB! We advise all investors to reduce their risks. This means diluting and diversifying their assets in between different investing opportunities in order to minimize risks. One should only invest a portion of one's available funds through crowdfunding, balancing the funds with stocks or by investing in other means with higher liquidity.