19. March 2021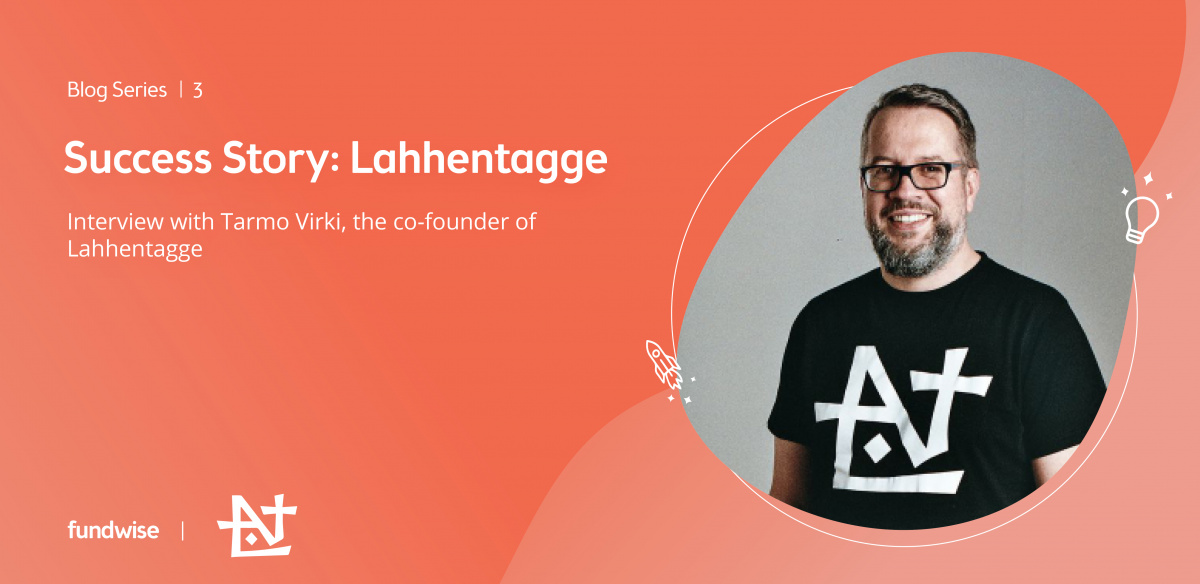 Last Autumn, we spoke with Tarmo Virki, who is the co-founder of craft gin and tonic manufacturer Lahhentagge. Lahhentagge launched a crowdfunding campaign on Fundwise in March 2020, at the beginning of the corona crisis. Despite the emergency situation and uncertainty, the campaign proved to be a great success and the maximum target was reached with the contribution of 199 investors. Since then, Lahhentagge has continued to succeed. In Summer 2020, the company launched a tonic soda made from recycled Christmas trees and hosted a gin festival GinFest for the third year in a row. In addition to gin, the brand's product range also includes non-alcoholic alternatives. In Autumn 2020, Lahhentagge's non-alcoholic gin Flâneur won a silver medal at the International Wine & Spirit Competition in London.
We discussed how to build such a strong crowdfunding campaign that will succeed even in the most uncertain times.
How did you find Fundwise?
I think Fundwise found us. I had been in the startup community for quite some time and I already knew everyone from Fundwise's team personally. We had been planning to organise a campaign for a long time and whenever we happened to meet somewhere, we discussed how and when to do it. We founded the company in the beginning of 2016 and already in 2017 we were discussing when the campaign should be launched.
We chose between three platforms, which were Fundwise, Funderbeam and Seedrs. Originally, our first priority was Seedrs, because Lahhentagge's ambition is to be an international brand and company. Fortunately, at some point we realised that at that time we were not that known in England and Germany, and it would have been too early for us to do it internationally. Maybe if we will launch a crowdfunding campaign in the future, Seedrs would be the first option. Secondly, when we compared Fundwise to Funderbeam, it seemed that Fundwise's willingness to help with marketing was much greater. I like what Funderbeam does and I also like their marketplace, but from a purely realistic point of view, we felt that we needed marketing support as much as possible.
How did the cooperation with Fundwise go?
It went quite well. It is always difficult to go through the equity crowdfunding process for the first time. I've participated in smaller projects in the past, for example a product financing campaign in Indiegogo, but I've never raised capital as a company through crowdfunding. So of course there were details or problems that needed to be solved on the way. For example, the challenges of the Estonian legal system, which are not related to the platform, but to the fact that the Estonian legal system is the way it is.
Based on your experience, what were the bigger differences between Indiegogo and Fundwise?
In Indiegogo, we raised money for our CoFounder magazine. We sold magazine subscriptions and in Fundwise we sold shares of the company - that's the biggest difference. In this form, IndieGogo works like a marketing platform or an online store. The whole legal background disappears - that was probably the biggest difference. However, there was a lot of similarity in the process of how to physically run a campaign.
You launched your campaign on Fundwise at the beginning of the corona crisis. How did it affect the campaign?
The campaign went live for the wider public in February. But before, when we started seeking for private supporters in January, the corona crisis had not really affected anyone yet. During February, the news had turned very negative and the world's stock markets were hit hard. Of course, there were times when it was clear that investors had escaped from any instruments with higher risks. When the campaign went live, we were able to reach our minimum target in about two days. When the news turned negative, it was very quiet for weeks. Slowly, the amount increased, but not radically. In the second half of March, we successfully ended the campaign when Estonia had declared the emergency situation. We planned to hold some face-to-face meetings with investors in March, but at that time it was already impossible. The last event we organised was a day or two before everything was closed and where many did not come.
In what stage are you right now in realising your goals?
We talked in the campaign about strengthening sales and focusing on export. The corona has certainly made it more difficult. Just as Estonian consumers look towards the domestic market, resellers look to reduce rather than grow their offering. Nonetheless, after the campaign we have launched in England, where we sell tonic relatively well. In addition, we just hired a sales representative, which we could do mainly because we raised capital.
What are Lahhentagge's future plans?
Looking ahead, we will definitely work quite a lot on the drinkstery experience center, which we can talk more about later this year. A lot of work has been put into opening up sales channels. Particularly tricky has been dealing with exports, because bars and restaurants have been closed in many countries. Most of our products are also in the bar's offering internationally, but the sector has been more or less closed. Statistics show that alcohol consumption has increased during the corona crisis, but this increase is linked to the lower end of the market. So to sum up, our current focus areas are the experience center, opening the sales channels and launching new products.
Similarly, we are working hard to make our company greener. The Christmas tree upcycling is an important topic for us and we are working to ensure that there is no excess waste. For example, some of our competitors claim in their campaigns to have zero waste. This means that they reuse something, but in fact still throw away the surplus. Maybe they have zero raw material, but there is still some waste. We are working on having actually zero waste. This is a big project for a small business. Then again, we actively aim to train and grow the market. We have been organising a gin festival in Kuressaare for three years now, which has definitely been a kind of big market education for the whole sector. We want the market to know that gin is not equal to Beefeater and to show that there are a million more interesting alternatives in the gin market.
Are you moving towards online channels?
We are contributing a little. But we have two challenges: selling alcohol online across borders and sending glass bottles by post, which is relatively expensive because glass weighs a lot and breaks easily. In this sense, with today's product range, it would be difficult to think that in a year or two we would be a completely online sales company.
Would you launch a crowdfunding campaign in the future?
Yes, sure. The experience was very positive. We had raised money before crowdfunding, so we already had some smaller and some more professional investors with us, whose attitude towards crowdfunding is not always the most positive. At the same time, as someone who deals with the company's marketing, I see that it is a huge value if you have 200 people in Estonia who own a piece of Lahhentagge, the number of brand ambassadors is therefore very large. In turn, amongst them are people, who know other people. Thanks to networking we got contacts of someone from Japan. Such mystical contacts can happen, and if you grow your circle from three to two hundred, then of course that number will eventually grow even further.
What are your current main target markets?
The main target markets are in Europe. I've always followed Google's spaghetti strategy to throw a bunch of spaghetti at the wall and see what's stuck. We do not have a fixed plan that we must definitely go to some market. If there are resellers in the market, the target group and the product works there, then we are ready to go with it. Our largest export market is the Czech Republic. If you, as a small Estonian entrepreneur, go to Enterprise Estonia to say that I intend to start exporting my products to the Czech market, they will probably think you are crazy. But due to coincidences and hard work, it is our biggest foreign market today.
Based on your experience, would you have done something different with the campaign?
The preparation stage took probably too long. We launched the campaign on time, but maybe we could have done it 6-12 months earlier. We timed the campaign accordingly to when we have as much attention as possible organically. We recycle Christmas trees in our tonic, so this is a topic that matters to the consumers and media. We knew we would get necessary attention in January, and that was why we opened the campaign to selected investors in January. At the beginning of March, Kristo Tomingas won an international cocktail competitions in New York with our non-alcoholic gin. Thanks to this we were able to get a lot of attention. We were able to keep Lahhetagge in Estonian media for two months. If you could be in the picture like this all the time, the company would probably get far very quickly. During the private round we decided that until the half of the minimum amount was not reached, we would not open it to a larger audience. There is no point in creating the risk that your campaign will fail. We could have done more face-to-face meetings with 5-15 people, participated in more conferences during the campaign. The importance of personal contacts is what is probably not valued enough in today's online businesses.
What is the secret to a successful crowdfunding campaign?
Timing, focus and sense of reality. It is important that you can create momentum once you launch and reach the minimum target in hours or days. For example, if you decide to go public on February 1st, then you finish finalising your campaign on January 25th. The platform can approve it, but investors don't have enough time to say "Yes, I'm putting my money in it." I think it was also a smart idea for us to involve a campaign manager from the outside. We had someone who was involved in the campaign and pushed it in various forums. This was a very sensible solution, especially if you have a small team who is busy with other daily tasks.
Check out Lahhentagge on Facebook and Instagram!
Thinking about starting a campaign? Contact us on info@fundwise.me and write about your company and your plan for crowdfunding. In the meantime, have a look at the current live campaigns.